This has been a rather hard week for me, especially on the creative side of life. I have been struggling with some health issues. My depression and anxiety have been pretty bad. I have also been suffering from some crippling self doubt when it comes to art and writing of late. Monday I seriously thought that I was having a complete breakdown. I doubted if I should continue art and writing. Maybe it is time to give up all these creative dreams and just get a full time job and be done with everything.

I think that all creative people go through these times of self doubt. As an author I have contemplated giving up before. It is sometimes hard to have the thick skin needed to be in this business. Rejection slips, bad reviews (and sometimes just plain mean reviews. I know that not every book is for everyone and I feel that constructive criticism is something one can learn from, but some reviewers get too personal and are just mean spirited. Not liking a book is not a reason to say terrible things about an author you have never met.), trolls who will bad mouth you for not giving them a free book or for not being who they think you should be, stalkers (yes I have had two), constant pressure to be on social media and more. It's a hard life sometimes, especially when it seems fewer and fewer people are reading nowadays. I have even given up writing before for short amounts of time, but I think that writing is in my blood and I keep coming back. I am still doubting myself right now, but I am back to blogging and editing and writing won't be far behind. I am fighting my self doubt the best way that I can.

Now when it comes to doubting my art, well that is harder to overcome sometimes. I am not very confident in my artistic skills. Art for me is usually a form of stress relief, yet I still want to be better at it. A few years ago I tried to take a class at my local community college, to work on improving myself and my art. The teacher instead of focusing on whether I had improved from day one, kept comparing me to someone whom we both knew, someone who had a bachelor's degree in art. I was not competing with an art graduate, I wanted to be better than I had been, but this teacher crushed me and left me feeling less than confident. I still feel that crushing of talent even though I continue to practice art on my own almost every day. Sure, I have even sold some art, but I always feel like that teacher was basically telling me that I will never be a good artist and that I should just give up. That is where I am at right now art wise, thinking I should give up art or at the very least never show anyone my art ever again.

I'm hoping that talking about this helps get me out of my funk. That some self confidence slowly starts to seep back into my being. Until then I guess I need to fake it until I make it?

Powered by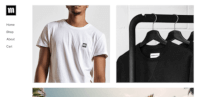 Create your own unique website with customizable templates.