As some of you may know, last week was my 40th birthday. Eek, I certainly don't feel that old, but the calendar says differently. That, as well as reading Eat, Pray Love last month, have me thinking about my life and how I can work on me to improve my life. I am a work in progress, but aren't we all.

Now of course I made several goals for the new year back at the beginning of January, and I am working on all of those to improve my life as well. So far I have been walking more, blogging more, reading more, trying to be more organized, working on my writing, basically trying to better myself. And all of this is great and much needed. However, lately I have been thinking about other things that can improve my quality of life. Like getting rid of negativity. That comes to play in several areas of my life. First I am trying to work on the negative thoughts that plague me on a daily basis, be it about myself or something else, I don't need that negativity in my mind. I am trying to train myself to be more positive and in just a short time I am seeing some changes. This also means that I need to get away from the negative people and situations in my life. I cannot afford to be brought down by people and situations that I don't really need in my life. Some things are just too negative that you can't be around them. I am doing what I have to do to be healthy, happy, and safe. Are these changes hard? Yes, but they are also necessary.

As I work on myself I will probably post from time to time on how things are going, sharing any tips that I might stumble across along the way. Of course I always want to hear from you too with any tips and advice that you might have. Like I said earlier, we're all works in progress and we all can help each other.

Powered by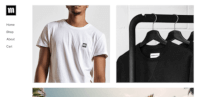 Create your own unique website with customizable templates.