So I am part of a little author collaboration over on Facebook with five others indie authors, a group called

Passions and Pentagrams

. Each month we try to write a short story based on prompt words given by the members of the group. For February we had fae, weird and ubiquitous. Here is what I came up with! Enjoy!

Awakening
"That's weird." Jack said to himself, looking towards the shore from the deck of his lobster boat. A naked woman walked out of the water, two giant lobsters following her. As if she could sense his stare, she turned to look at him and he knew she was not human. Her eyes glowed with unnatural light. She was one of the fae of legend. Jack had heard that her kind could enchant a human with just one glance, dooming them to forever want what they could never truly have. She smiled at him, beckoning him to come to shore with the wave of her hand. Not thinking he dove into the water and swam towards the beach.
As he approached her, the giant lobsters moved away, allowing him to drop to his knees before her. Gently she reached out her hand and touched his cheek. A ubiquitous feeling overcame him. For the first time in his life he felt connected to something, to everything. The world opened up and shared its secrets with him. The last thing he remembered before he lost consciousness was her smiling down at him. Blackness overtook him and he knew no more.
He opened his eyes to see the moon in the sky, his boat washed up on shore twenty feet from where he laid. Jack sat up, looking around for a sign of his savior. She was gone. Yelling he ran up and down the beach, no trace of anyone could be found. He was alone, but the encounter that had taken place had changed him forever.
From then on Jack came to the beach every day, waiting for the time when his mystery woman to return to fulfill the promise that she had awakened in him.


Powered by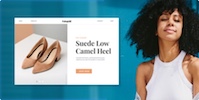 Create your own unique website with customizable templates.