If my horrific allergies are any indication, spring is indeed here and here to stay in New Mexico. That means it's time for some spring cleaning. This is the first year that I am doing a serious clean and purge and I must say that the more I get rid of the lighter I feel mentally and even physically. My closet has been really lightened up and now I can actually find what I want to wear and what actually fits. What a concept right? My closest was the hardest thing for me to purge, as I was sentimentally attached to some items that are now sadly way too small. But hanging on to these items only serves to make me feel bad about myself and my now 40 year old body. I'm trying to let go of things that make me feel bad about myself in the here and now. Am I working out and trying to get healthy? Yes. Am I likely to get back into the jeans I wore 10 years ago? Probably not, and if I do my fashion sense has changed anyways.

I am even going through and getting rid of some books! Shocking if you know me, but there are some books that I know that I will never read again and I should let them find their way to people who will enjoy them. This will make my husband happy when we move next, unless I of course replace all those books with new ones, which is likely. LOL

It really is amazing though that the more I clean and get rid of, the better I feel physically. My apartment seems to be a lighter and happier place to be. It just goes to show that it is not possessions that make you happy. By the time summer rolls around I think that I will be in a better place simply thanks to some good old fashioned spring cleaning.

I am not only purging physical items, but I am re-evaluating and getting rid of other things in my life, like hobbies that no longer serve or interest me, but that is for another post.

Powered by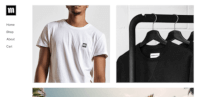 Create your own unique website with customizable templates.