I have been going through a lot lately, much of which that I am not going to talk about at this moment, but trust me it has been a trying time of late. I have been filled with anxiety, which has led to a almost crippling depression. I still have to go to the day job and smile and be nice to people, even when cranky and rude people are yelling at me when I can't change anything and when they know I am not the manager. Last week one man came to yell at me no less than 5 times even after talking to the actual manager. Apparently it made him feel better to yell at someone over and over again, but it took everything inside of me not to crack right then and there. He was yelling about a movie. I am dealing with life and death in my personal life and I had to smile at a jerk like that. Yeah, that day at work made everything worse. Now I have spiraled into a feeling a despair. Writing and editing need to be done, but my mind doesn't want to focus. I don't want to get out of bed and pretend to be normal and happy. I just want to cry and never see anyone again. That is the reality behind depression. But I am good at pretending and no one really knows how I feel most of the time.

Why am I writing this? I don't know. Maybe I need a release. Maybe I want to help show others feeling the same way that they are not alone. I don't know, but this is a theme that I think that I will be writing about more this year. Let's see if it helps. As I feel right now I don't think that it can make me feel any worse.

Powered by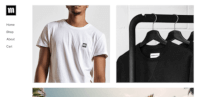 Create your own unique website with customizable templates.