So I recently came across a question in a fantasy readers/authors group on Facebook and I thought that I would ask all of you, my lovely readers. The question is whether or not blogging is necessary for authors? Meaning, should authors even take time out of their other writing work to blog? Since I am posting this question on my blog, I bet you know what my answer is. However I was really shocked that almost every one on that particular post seemed to think blogging was a waste of time. Most people there said they don't read blogs, that they believe that authors should just be writing their next book, that blogs were no longer relevant. I was couldn't believe that no one thought blogging was relevant.

Now I blog three times a week, about my work, about art, about my writing of course, and any other thing that pops in my mind. I also like to share other authors and artists. And I have hundreds of readers each week, thousands each month. So obviously people are still reading blogs. You are reading blogs my friends. So I thought that I would ask you some questions.

Why do you read blogs? How many do you read on average? What draws you to certain blogs? Do you find new authors through blogs? Do you buy books you read about on blogs? Where else to you find authors? On Facebook and Twitter? Podcasts? This inquiring author really wants to hear from you!

Powered by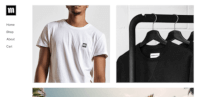 Create your own unique website with customizable templates.