Today I am happy to welcome author D.F. Krieger here to the blog! She has a super sexy new release coming out in a couple of weeks and is here to tease and tantalize us a little. Warning, the excerpt is 18+, but hey if you have read some of my stories you will be okay.

Surrender Agreement--Mistress May I Book 2

D. F. Krieger

LGBT (Lesbian) BDSM Romance

Amazon Pre-order -

https://www.amazon.com/dp/ B071NWDBDZ

Release Date: June 12, 2017

http://dfkrieger.com

"Teresa?"
I froze and I could swear that my heart stopped beating for a moment at the sound of my name. When I finally found the courage to turn and face her, she took my breath away in a new way. The fading sunlight slanting into the doorway of the barn highlighted her hair in a burnished halo. My own personal angel.
I swallowed, chasing away the sandy coating that enveloped my tongue and throat. "Yes?"
She reached out and her fingertips brushed my cheek in a tender caress. "Are you scared? You've seemed...withdrawn since I said I wanted a scene. If you aren't ready yet."
Her question and everything she left unsaid hung in the air between us. I weighed my emotions as I chewed on my lip in contemplation.
"I'd like to try," I finally answered. "But what if I get to scared, or go into one of those waking nightmares?"
The serious expression in her eyes helped reassure me that she took my fears seriously. "Easy enough. That's what a safe word is for."
"Safe word? But those are a joke." I gave a soft snort. "Why bother if all it gets me is told I am a big baby?"
Mistress sighed while shaking her head. "If I didn't already hate Bryce, I would now. What a jack ass."
I stared at her in shock. Hate sounded like such a strong description of emotion coming from her. I had a feeling the word didn't cross her lips often. "Why do you hate him?"
Her eyes went wide and she opened her mouth, then shut it for a moment. "I...knew him...through my husband. Let's just say he's always been an asshole."
It didn't take a rocket scientist to figure out she was hiding something. I couldn't find it in my heart to press her, try as I might. Curiosity weighed heavy in my chest, as well as a keen sense of betrayal that didn't make sense.
She knew him all along. Probably had sex with him at some point. Bryce is into that. Charlie probably was too.
"Come back to me. I don't know what's goin' on in that head of yours, but I have a pretty good idea. Whatever you're thinkin' is probably wrong. I won't ask much of you in the way of blind trust, but on this I do. Please?" The heart-wrenching sadness that crept in her voice pulled at me, making me emotionally double back.
Come on, Teresa. More than likely, if she hates Bryce, because he hurt her the same way he hurt you. Can you blame her for that?
No. I couldn't. If anything, I admired her strength to put herself back together. I'd only been out of his clutches—what, a week?—and still felt like I'd never be able to glue myself back together. He not only broke me, he tore apart the very core of who I was and recomposed it to his liking. A part of me feared I'd always be a creature of his making. Never myself again.
But here, now, a woman stood in front of me offering her hand. Offering a whole new life. Offering the ticket to teach me how to be myself…or at least a new invention of myself. All I had to do was trust her and serve her. The two things in the world that terrified me the most.
"Faith," I said on a mere whisper.
She tilted her head and studied me. "Faith?"
"Can that be my safe word?" I swallowed hard, hoping to calm the butterflies in my stomach. It seemed they'd taken up permanent residence considering how much I experienced them in the past few days.
"Of course it can," she responded with that beaming smile of hers. That one that said, with her, everything would be right in the world.

Powered by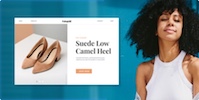 Create your own unique website with customizable templates.