Today I thought that I would start a new series for my blog, talking about my latest writing in progress! Right now I just finished the rough draft of the first novella in a series that I plan to write called the Port Stone series. It is a high fantasy series, full of magic, elves, and mystery. The two lead characters are strong females that fight their own battles and kick quite a few men's asses along the way.

The first novella will be called Port Stone: Dangers of the Swamp. Think of the horrors and nastiness of a medieval town and you have a good idea what Port Stone is like. Separation of the classes, which of course involves species in a fantasy world, plays a major part in the story.

It's hopefully for a magazine market and I am pretty proud of it. It is out to my beta right now and I hope to have it submitted by the end of the month. I am inspired by my love of fantasy, from JRR Tolkien to George RR Martin to playing Dungeon & Dragons. Hopefully I have found a market for this story, but if not I will get it to my editor and self-publish as this is a story I am really proud of and a fun and new direction for my writing to take.

Stay tuned for more writing updates on my current projects. I'll be talking stories, characters, inspiration, and more! If you have questions I will be happy to answer.

Powered by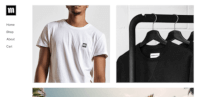 Create your own unique website with customizable templates.