Today I am going to get very personal here on this blog. I have had a lot of changes happening in my life lately, none bigger than having a total hysterectomy last month. That is a huge decision in a woman's life, something that was necessary but scary at the same time. This was one of those life changing events that led me to cleanse other parts of my life, getting rid of negative people and situations, thinking of going back to school to get a new day job, even starting a new blog and starting anew.

So today I am going to talk a little about having a hysterectomy and how people react to the word, let alone the operation. There seems to be a taboo about talking about it. Like talking about a woman's uterus is something nasty and to be ashamed of. In fact a hysterectomy is the second most common surgery for women, second only to the c-section. Yet many people tell me not to talk about it. Shhh, no one wants to hear about that. Why not? It happened to me and changed my life. I am still waist deep in the lengthy healing process. I had medical conditions that made this surgery necessary and I am not ashamed of it. I want to help break the stigma that surrounds this medical procedure. I want to have a voice no matter if people want to listen or not.

A few weeks ago, before my surgery even though I knew I was heading towards a hysterectomy, I had to delete a man from facebook who represented the worst of how people talk about women and their bodies. It was right after Brad Pitt and Angelina Jolie split. Truthfully I could care less about the celebrity gossip, but this guy thought it funny to say Brad had dropped her because she wasn't a real woman anymore since having a hysterectomy and double mastectomy in order to protect her health. Let me tell you, I may have had surgery, but that does not affect my womanhood. I am still a woman even if I can no longer have children. I am still a woman no matter what surgery removed from me and no one can tell me otherwise.

Powered by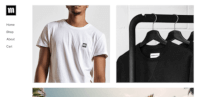 Create your own unique website with customizable templates.