Since I love all things creative, I think that I am going to branch out from just doing book reviews and maybe start throwing in some movie reviews as well. Thanks to the new day job I have been able to see more movies of late and thought I would share some of my thoughts on what I have been seeing.

So let's get started... This week my husband and I went to see The Comedian, mainly due to the excellent cast that it boasted. Danny Devito and Robert De Niro as brothers? Yes please! Anyway, if you are a fan of old school comedy club humor, the raunchier and grittier humor, well then this might be the movie for you. It takes a real hard look at the comedy club scene and certainly has some pretty funny moments mixed in with the harshness of that world. It did drag in some places in my opinion, but it is still a good movie with a great performance from De Niro. I give it 4/5 stars and recommend it to anyone who loves naughtier and darker humor.

Powered by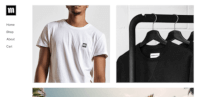 Create your own unique website with customizable templates.