I am sure that many of you might have watched the Super Bowl last weekend, maybe including the halftime show by Lady Gaga as well. Or if you are more like me that might have been the part you paid the most attention to. Now I know everyone has different musical tastes, but hey she actually sang (no lip singing is always good) and performed her butt off. Judge her on that all you want, but this week I have seen some disgusting comments about her weight and her body. Because all women have to be Photoshop perfect at all times right? Only then are they worth anything. I say bullshit! She looked great! She looked real and imperfect and to me that is beautiful. She looks beautiful to herself as well. Go to instagram and read her very eloquent response.

But all of the criticism of her body makes me think about just how fucked up our society is when it comes to the female form. When did non-realistic body standards become the norm? When did everyone female have to be perfect looking to be valued? When did it become socially acceptable to body shame anyone and everyone based on unrealistic standards? I mean I know that I have some extra weight thanks to illness and surgery, weight that I want to lose for health reasons, but if Lady Gaga is fat, then what the hell am I? Is this really the message that we should be sending to young girls and women? How about taking a page out of Lady Gaga's book and teaching people to love themselves for who they are, not what they look like?

Powered by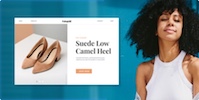 Create your own unique website with customizable templates.