Today I thought that I would like to do something a little different, I thought that I would Jenna from A Whole New Life answer a few questions for you all.

So tell me Jenna, why did you move from the big city to Pella, the picture of small town America?
I needed a change, my father had died and well, I just had to leave. With my family gone, I really had nothing to stay for. Plus there were some bad influences that I needed to get away from.

Rumor has it that you and the delicious Deputy Henri Gunther are an item. Care to comment on that?
I suppose it is useless to try to keep anything secret in a small town. First let me say that my last intention when I moved here was to look for romance. But Henri, well he has a way of working his way under your skin. So yeah, we have been dating. There I said it.

Let's get a little deeper. Tell me Jenna, what is your biggest fear?
Of going back to my old life. I don't want to say anymore than that.

Okay, what is your biggest dream?
To have a small town, normal life. I just want peace and quiet. And maybe a family of my own someday, though this is the first time that I have ever admitted that out loud.

Powered by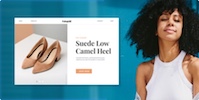 Create your own unique website with customizable templates.